Earlier this year, I volunteered to host Christmas festivities for my immediate family, which meant that we'd have eight to ten people over for dinner. The dining table was still the same one I had purchased on clearance years ago for my 1-bedroom house. It had served me well over the years, but it could only comfortably seat four, with six as the absolute maximum. Plus, with a rather large dining room (around 12' x 15'), it was underwhelmed by the scale of the room.
For  a while now, I've been trying to find a dining table that I like enough to buy or build, but haven't had much luck. Around the time that Christmas plans were being made, I stumbled across this Festool promotional video with a basic design that I really liked (the completed table is just after 2 minutes in). With the basics of the design settled, I used a giant piece of cardboard to help figure out the size for the tabletop. Then it was off to SketchUp to draw up plans and figure out just how much lumber I would need. A quick call to my favorite hardwood dealer, and I had a nice pile of walnut boards a few days later.
The base for the table was actually built with leftover walnut from a previous project (hence the motivation to use walnut in the first place). While there was a fair bit of work finessing all of the various miters, there weren't any real challenges. It was just a lot of time spent getting all of the joints lined up and flush. Before gluing the base together, I did a test assembly in place in the dining room, just to be sure it wasn't going to be too big. It also gave us the chance to figure out if it could even fit out of the basement in one piece (answer: yes, after ripping out some drywall).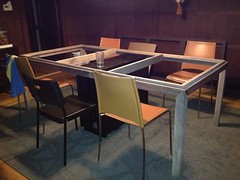 The walnut for the top was grade "No. 1 common", which means that it has a fair amount of knots and other defects. I had originally intended to work around those, but as I started to take measurements of the boards, I realized I would have to incorporate many of them into the top. One in particular was a rather large… thing (I'm still not sure exactly what it is) that I nicknamed the gnarl. I stabilized all of the knots and other defects with epoxy, and then cut all of the pieces down to rough size. Assembly of the top was pretty standard; I built it in two halves to make handling easier, then glued them together at the end.
I had a gallon of General Finishes' Enduro-Var left over from refinishing the dining room floor earlier this year, which I wanted to use for the finish. I like working with it, and while it is slightly amber, it doesn't impart a great deal of color to walnut. Stain was one option to add more color, but that tends to obscure the grain a bit. In reading one of my books on finishing, I ran across a technique of using a chemical oxidizer (potassium dichromate) to react with the tannins in the wood and add more color. While potassium dichromate is quite toxic, the reaction with the tannins that produces the color is chelation; that means that any chromium used to color the wood becomes chemically inert. Any unreacted potassium dichromate can easily be washed off the surface once it has dried, and since it is electric orange in color, it is very easy to tell when it has all been removed. I did some test pieces with scrap from the table, and was very pleased with the result.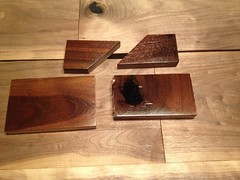 Once everything was glued up, sanded smooth, and colored, it was time for finish. Since the tabletop is quite large, I knew there was no way I would be able to brush it without problems. I've wanted a spray gun for a while, so this was the perfect excuse to pick one up and get some practice. That also meant I needed to set up some sort of area for spraying, to try to contain the mess. A roll of 4-mil polyethylene and some binder clips did the trick. The spray gun made finishing the table an absolute breeze. Not only did the finish go on much quicker, but it was dry and ready to recoat after about 45 minutes, versus 2+ hours when applied with a brush.
I let the finish dry and cure for a few days in the basement before bringing the table upstairs (with the help of a friend). It was just in time for my birthday party with seven total people, a great test run before the big Christmas dinner. Now I just need some new chairs.