It didn't take long for me to get the first of the shop projects done. This one was a Thien cyclone dust separator - sort of a scaled-up version of the cyclone technology in those expensive British vacuums. In the shop, I'll be using it to separate out a good portion of the sawdust and wood shavings before it reaches the vacuum and clogs it. Since I built mine on a 30-gallon steel trash can, it can hold quite a bit more stuff than my shop vac.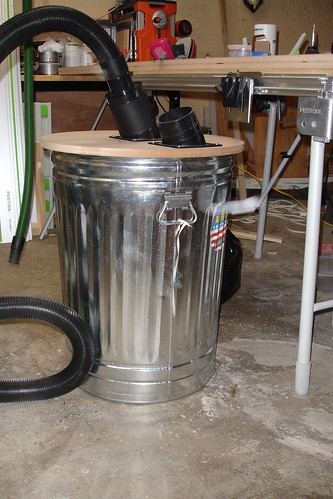 I just followed the instructions on J. Phil Thien's site (above) and forums, so I won't go into too much detail. The two main components are cut from MDF using a homemade trammel to get nice round circles. I used some 1/2" PVC pipe as spacers between the lid and the baffle and attached the 4" PVC fittings with a healthy amount of epoxy (my new favorite toy!).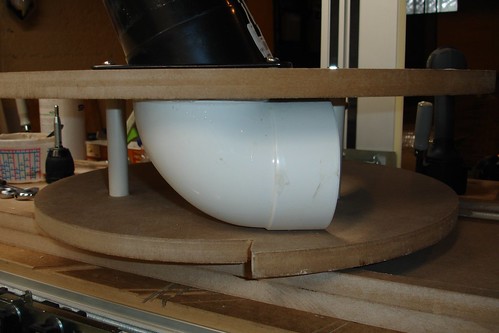 To test it out, I ran a bunch of pine through the planer to generate a lot of shavings. It needs a little bit of tweaking, but I'm still quite impressed with the results. Until I overfilled it, the cyclone did a reasonably good job of separating the shavings and dust out of the air. And even with the trash can filled, the shop vac only sucked up a comparatively small amount of debris.
I suspect it will perform much better once I have it hooked to a proper dust extractor (most likely one from Harbor Fright [sic]), instead of the smaller shop vac that I'm using with it now. Even still, it's an exciting addition to the shop. I have a number of projects I've been delaying, because they involved quite a bit of planing. Before I built the separator, I had to send all that debris straight into the shop vac, clogging it up after a just a pass or two. Frustrating, to say the least.
And more exciting still, this opens the way for the next few projects. In fact, that pine I was running through the planer is for the very next one!