It's been a month since I last posted an update. I didn't plan on taking so long, but I wanted to wait until the tile was finished before posting it. There's been plenty of delays, but now there's just a little bit of grouting still left to do, and it will be done!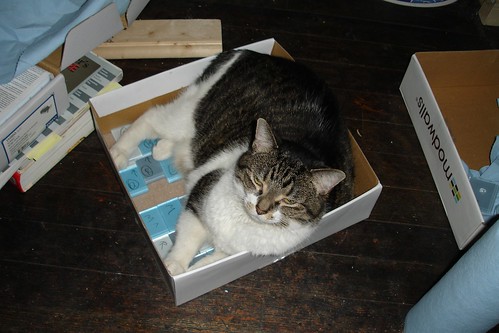 Fortunately, we had help
The three niches get their own tile treatment… natural pebble tile with a dark grey grout. Since the top of each niche had to be tiled, and that would have to be supported while the thinset cures, we started there. Tiling upside-down isn't very fun, but at least we didn't have too much to do. We used some scrap lumber to make temporary braces to hold the tile up while it sets.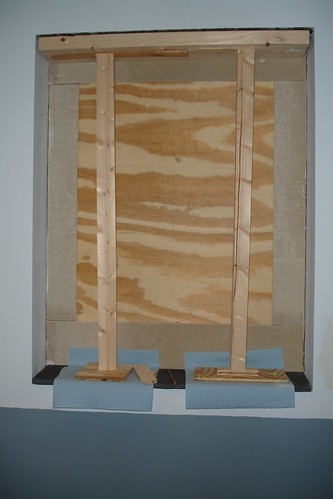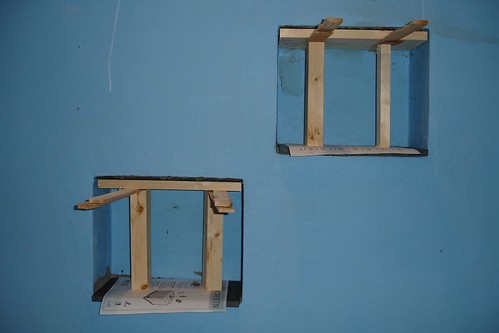 Twenty-four hours later, the braces came out, and we were able to work on tiling the sides and back. The back of the two smaller niches in the showers was actually the hardest part to do; it's just narrow enough that trowels don't want to fit.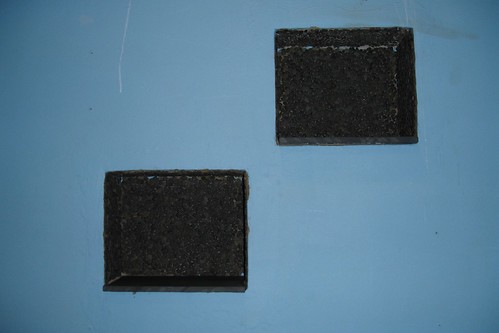 Grouting the niches wasn't very bad, and went fairly quickly. There's still a few spots that need to be touched up, but for most part, it's done. The mirror niche currently has a blank spot where the mirror will go; more details on that coming soon…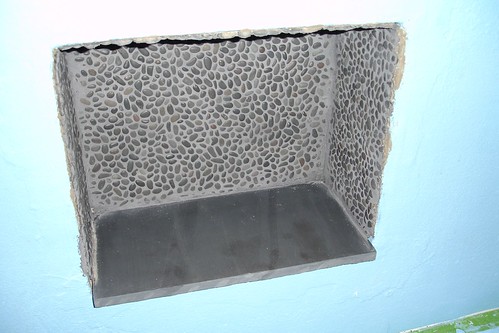 Once the touch-ups are done, we'll be able to seal the stone and grout. And that will make for caulking and paint touch-up, giving things a much more finished look. But in the here and now, most of our time has been spent tiling the shower. That's also where most of our delays have been.
The very first day we were going to start tiling, it reached well over 100º outside, and well into the 90s in the bathroom (there's no A/C in there right now). The thinset directions say the maximum wall temperature is 90º, and our walls were reading around 91º. Since I didn't really want to take any chances, we had to put it off for a day. And that wasn't the only day we lost to heat; at least three days this month proved too hot for tiling. Several days were lost to laziness, and a few days were given up so I could attend some introductory training at Festool HQ.
There was also the time that was spent cutting tiles, rather than installing them. Each tile that had to be cut took about 2 minutes, and there were a LOT of them &em; around 275, by my estimates. Several were cut more than once, since my cut lines weren't always spot on, too. But while it was slow work, the end result is simply incredible…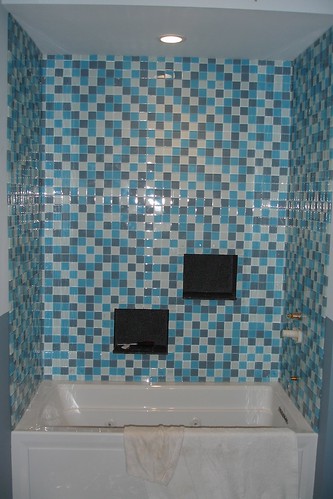 Before the grout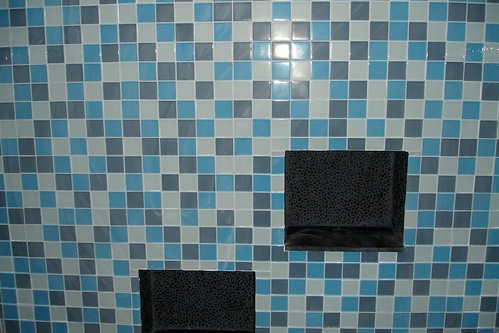 Still some haze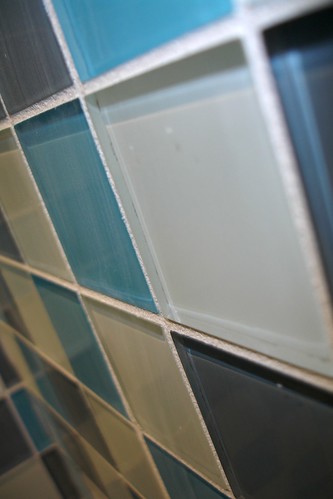 And ta-da!
There's still one wall of grout to do, and then this, too, can be sealed and caulked. Once that's done, the focus will be back on the floor. Until then, be on the lookout for glassy vampires…