Since this week brought some abnormally pleasant weather, we didn't manage to put as much work into the bathroom as I would have liked. But we did still manage to work through quite a bit. Early in the week, I got the tub drain plumbed into the drain stack. I also fished most of the hot and cold supply piping up from the basement and through the walls. Luckily, I found a spot that gave a good straight shot for three of the five lines I need to run, so it was pretty simple overall. You can see the end result in the bathroom, and also get a sneak peek at the last few days' work…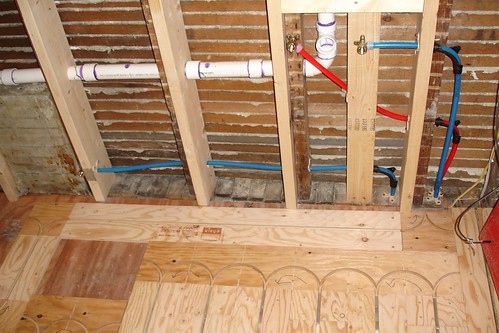 One of the little "luxuries" we decided to add as part of the remodel is a hot water (hydronic) radiant heated floor. Since the cost wasn't terribly large, and the additional labor wouldn't take too long, we decided to spring for it. We'd eventually like to run radiant floor heat throughout the house, and the bathroom seemed like the perfect place to start. We picked a track-based subfloor system for the bathroom; it consists of plywood panels with grooves cut in them to accept flexible tubing for the hot water. There's also a thin piece of aluminum under each track to transfer heat evenly across the floor.
We got started yesterday evening installing a few of the panels, and spent a good chunk of today finishing things off. The trickiest part of the installation was figuring out a layout for the panels that will cover as much of the floor as possible, and still make a complete continuous loop for the tubing. The rest of it was just a lot of measuring and cutting.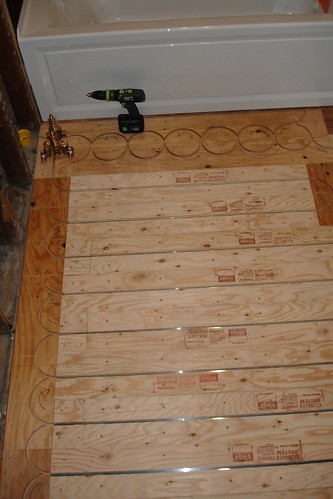 There's still a few spots that will need to be filled in with standard plywood, like underneath the toilet. Once that is done, we'll be able to plumb in the drain line for the toilet, as well as start installing the cement board base for the floor tile. There's also just a few more small things to do, and we can start putting drywall on the walls, too. Slowly but surely, it's coming back together.