We finished installing the cement board for the tub surround yesterday evening. This included the piece that covers the plumbing wall of the shower, which was by far the most difficult to cut, having a total of four cutouts, each with very minimal tolerances. I actually surprised myself by getting it right on the first shot, especially since we made all the cuts based off of measurements, rather than direct reference marks (i.e. holding the board up to the obstructions).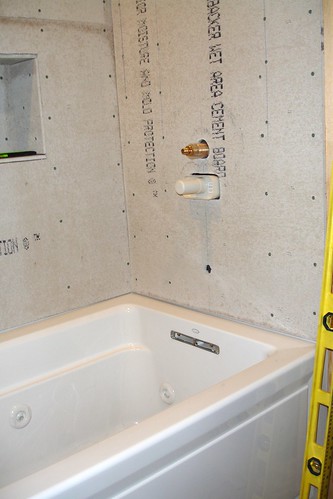 And in a stroke of luck, the off-cut from making that piece narrow was the perfect size to fill in the top few inches of the back wall. Nice and easy! Having the entire surround completed really fills in the back wall and makes it start to feel more like a room. I'll be very excited to see tile go up, but that will have to wait a little bit longer.
Tonight's project was to get the tubing installed for the radiant floor, since that is necessary before we can put up drywall. There were a few spots were the tracks in the panels didn't line up perfectly, so I had to touch them up with the router. Luckily, there weren't too many, and I didn't make any (terrible) mistakes.
Some of the panels were also sitting at slightly different heights, since they most likely came from different batches. While not a huge deal, having small ridges everywhere isn't the best thing for the cement backer board that will soon go down, so they needed to be smoothed out. Running a sander over installed tubing didn't seem like a good idea to me, so we had to spend some time getting everything evened out. And unfortunately, my only power sander is for finishing, so it's not very aggressive and took longer than I'd hoped.
With the edges of the panels all smoothed out, we could finally install some tubing! I had already fished the supply line up into the bathroom this afternoon, and then fished it back down to the basement for the return, so it was just a matter of pulling tubing up from the supply side as we needed it. And the installation was nothing more than applying some silicone adhesive to the track, then tapping the tubing into place with a rubber mallet. Doing the whole bathroom only took about 30 minutes, which I think is pretty good for a first-timer!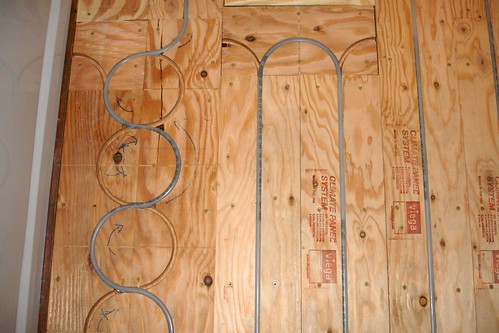 Tomorrow, I'll have to hook the tubing up to the air compressor for a pressure test, just to make sure I didn't damage it anywhere. Fingers crossed…