I thought I should take a step back and cover the "before" side of the bathroom remodel. Stepping through the door, you're immediately greeted by the original cast iron tub. At some point in the past, it was modified into a tub/shower by adding pre-fab walls and a floating partition over one side of the tub. It was also sloppily refinished to some sort of vomit color, which is now flaking off in several spots.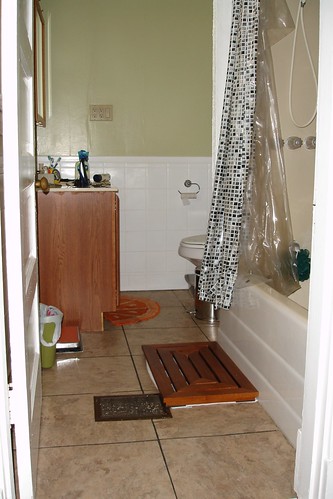 If you ignore the surface flaws and the reversed hot and cold taps, it is arguably functional. But the placement of the tub effectively turns the toilet and vanity area into a cramped, dank, isolated little cubby.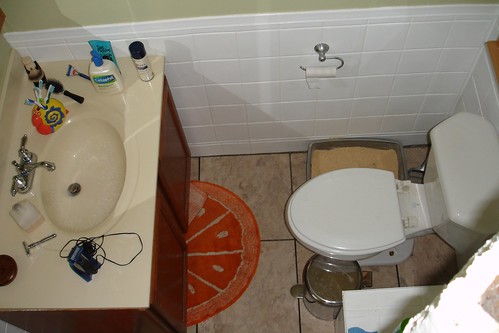 Have a seat!
The back side of the partition wall on the tub is also, inexplicably, covered with ceiling texture. All the way down to the tub. It's both ugly and dangerous.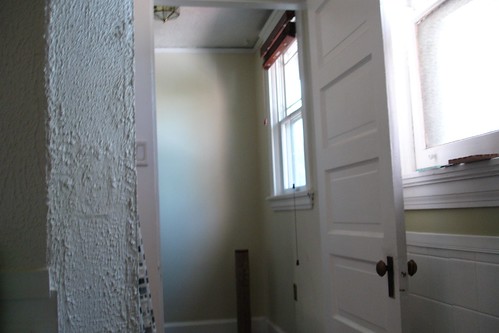 The walls are finished in sheets of a lovely plastic "tile" that has been slathered with layers of paint. And above that is several layers of wallpaper that has been painted over. Oh, and whoever originally wallpapered it decided that it wasn't necessary to tape and mud the seams on the drywall, so you can see each and every one of them.
And then there's the toilet. It drains into the original cast iron stack, which is cracked and leaking. So any time it is flushed, some of the "water" comes through the ceiling of the kitchen below. Needless to say, I've only used it once since buying the house.
Add to that the less than charming bargain basement vanity and peel-and-stick vinyl flooring, and there's really nothing in the bathroom worth saving. So everything must go, from the ceiling down to the subfloor. Then, we can build it back up with some modern fixtures in a much more functional and efficient layout.
Stay tuned…