Today turned out to be quite the day. Between some minor mishaps and only having the dumpster until tomorrow, there was a LOT to be done. I rented the big pipe cutter first thing this morning, and we got to work taking down the stack. Partway through that, I heard a noise coming from the kitchen and discovered that some debris had fallen onto the ice maker line, causing it to burst and spray water all over the kitchen. Oops!
Then I managed to get the rented pipe cutter jammed onto the pipe. Oops! Lots of elbow grease and a few hits with the sledgehammer later, and it was freed up. We finally got the rest of the stack removed about 15 minutes before the rental place closed, so I was able to return it same day. And now, I have a great view from my basement all the way up to the sky!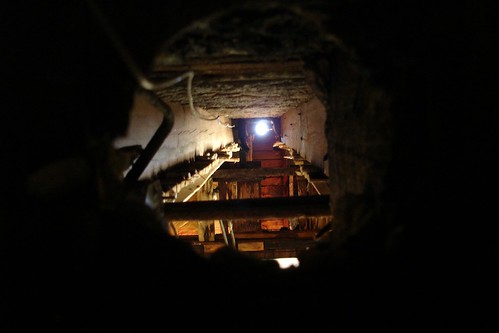 A very narrow skylight
The rest of the day was spent busting up and removing the remainder of the mud job. We pretty quickly got the hang of it, and were able to pull most of it out in big chunks. VERY big chunks. You will note that it was a full five (5) inches of concrete. On the second floor.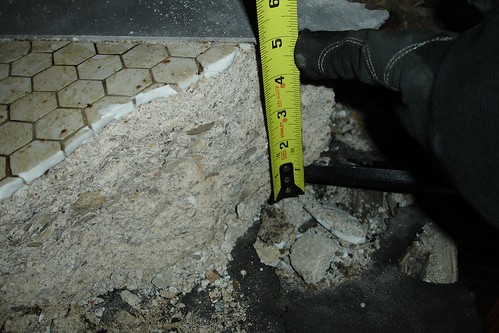 Many hours and many sore muscles later, and it's all gone.
While we were loading up some of the debris to take it outside, Brad spotted a hex tile with some writing on it…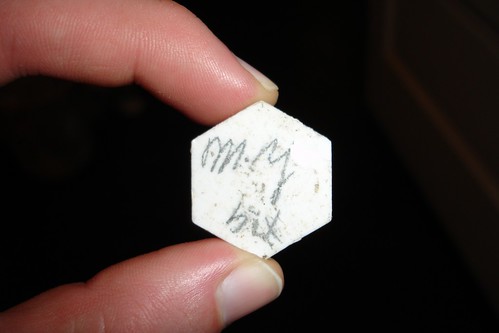 "M.Y Six." A message from 1915. I wish I knew what it meant. Amazing that it survived being cemented down for almost a century.